Pictures from Haiku North America 2001

---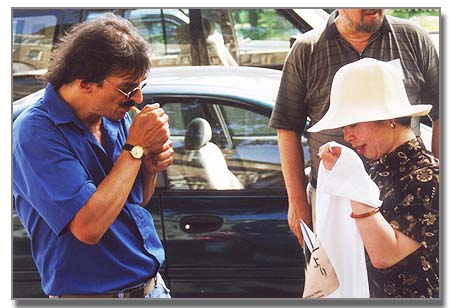 Pause in the conversation between Alan Pizzarelli and Emiko Miyashita
Alan Pizzarelli is well known for the prankster sensibility that he brings to his haiku readings and performances. His haiku were included in all three editions of the The Haiku Anthology (Cor van den Heuvel, editor; Norton 1999; see Jack Foley's review of the Anthology). Alan's latest book is Senyru Magazine (a parody), available from River Willow Publications, 118 Schley Street, Garfield, New Jersey 07026; or send at email to Alan at poetryA@peoplepc.com.
the dog runs after the stick
i pretend to throw
—Alan Pizzarelli
Emiko Miyashita, who lives in Kawasaki, Japan, is a haiku poet who writes in English and in her native Japanese. More than a translator, Emiko is an ambassador for Japanese haiku in the West and for English-language haiku in the East. The T-shirt she is holding in the picture above has the cover from one of her recent books, a collaboration with Lee Gurga: Einstein's Century: Akito Arima's Haiku, available from Brooks Books, Decatur, Illinois.
the Dog Star:
Einstein's century
comes to an end
—Akito Arima
translated by Emiko Miyashita and Lee Gurga
Lee Gurga is a past president of the Haiku Society of America and is the Associate Editor of Modern Haiku, the longest continuous English-language haiku magazine. His haiku have won the top prize in haiku contests in the United States, Canada, and Japan.
The man behind Emiko in the photograph is Charles Trumbull, a haiku poet, Editor of the Haiku Society of America newsletter, and compiler of the informative Haiku Publications Survey. Charles was one of the organizers of HNA 1999 in Chicago. He is the proprietor of Deep North Press, a publisher of haiku books. Send written queries to 2021 Harrison Street, Evanston, IL 60201; or send email to Charles at trumbull@interaccess.com.
haiku reading:
a sequence about winter
the heat!
—Charles Trumbull
---
NCHS Events page