Pictures from Haiku North America 2001

---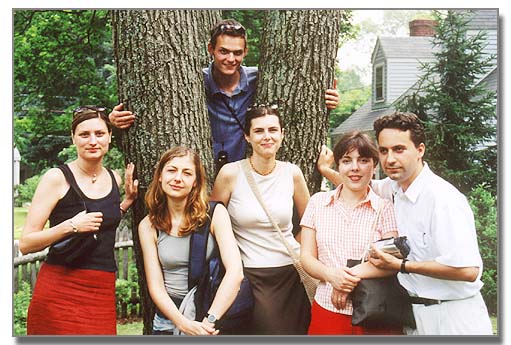 Neven and Silvija Valand (at right) with Night Light
HNA 2001 included many performances in which haiku were combined with music, dance, photography, videography, and electronic sound. Many of the performers were internationally-known musicians from the Boston Conservatory of Music and the Berklee School of Music. There was even a dance troupe from Iga Ueno, Japan—Basho's home town, and a ninja stronghold during feudal times.
I especially liked the performance by Night Light, an ensemble from the Republic of Croatia. Their multimedia production, The Frozen Lace Trembles, included a series of brief compositions for piano and strings. Each composition was inspired by one or more haiku. One of the musicians would read the haiku, then the ensemble would play the music inspired by these poems.
The founder of the group, Neven Valand, wrote all of the music. The poems were by Neven, his mother Gordana Valand, Ion Codrescu, Dimitar Anakiev, Jim Kacian, Boris Nazansky, and Lidija Bajuk.
Night Light also performed a longer composition called "Romance," which was inspired by the poem "Summer Morning," a rengay by Ion Codrescu and Gordana Valand. Neven composed the music for two pianos, two violins and multimedia. "Romance" is a classical hit in Zagreb, Croatia.
---
NCHS Events page