Pictures from Haiku North America 2001

---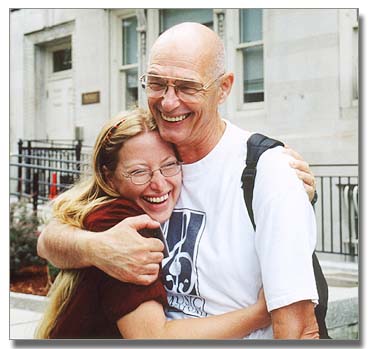 Linda Robeck and Howard Lee Kilby have a goodbye hug
Linda Robeck, a former NASA "rocket scientist," is a relative newcomer to haiku, but she has made herself at home in the English-language haiku scene. Linda is the production manager for haijinx, a quarterly journal that focuses on the role of humor in haiku.
During one session at the HNA 2001 conference, Linda was struck by the lovely summer kimono that the presenter was wearing:
with a gesture
the fine silk sleeve
of her kimono
—Linda Robeck
Howard Lee Kilby is the tireless Secretary for the Haiku Society of America, and he is very active in the Hot Springs arts scene in his home state of Arkansas. He nominated Sonia Cristina Coman for the Arkansas Traveler certificate, for example.
Fourth of July
beyond the fireworks display
a shooting star
—Howard Lee Kilby
---
NCHS Events page